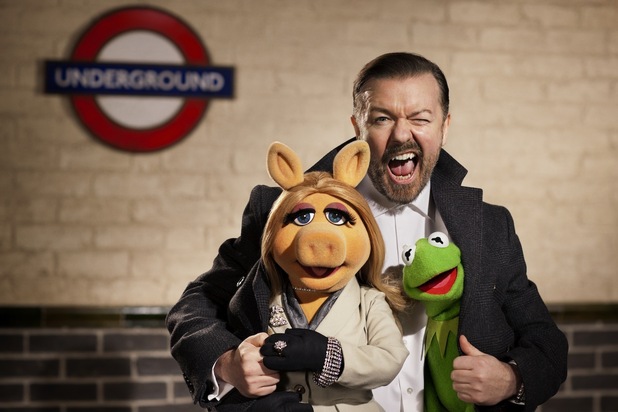 In the lead role Ricky (as villain Dominic/Number 2) with Miss Piggy and Kermit
MUPPETS MOST WANTED
Muppets Most Wanted is due for international release on March 21st 2014.
A few days ago, it was announced that the sequel to The Muppets movie starring Jason Segel and Amy Adams will be called 'Muppets Most Wanted'.
The sequel stars Ricky Gervais, Ty Burrell (Phil Dunphy from Modern Family) and Tina Fey (star of 30 Rock) and is directed by James Bobin.
Ricky plays a 'baddie' called 'Dominic', who is a sidekick to the No.1 criminal Constantine (a dead ringer for Kermit the frog).
Ty Burrell plays a French interpol agent and Tina Fey, a feisty prison guard.
Film Synopsis
An international crime caper which is set in Europe. The Muppets go on a world tour and end up in Europe's biggest cities, but are closely pursued by Dominic and Constantine.
Bret McKenzie, star of Flight of the Conchords will be writing some of the musical numbers for the sequel, following his award winning success for 'Man or a Muppet' in the 2011 film.
Here is a clip of Ricky and Pepe the Prawn on set discussing Twitter:
and here is Ricky discussing the upcoming movie:
Ricky is said to have always been a fan of the Muppets and has said that Kermit is his favourite because 'he carries the weight of the world on his shoulders'.
Ricky was in a scene in the 2011 Muppets movie but the scene didn't make the final cut; however, it is in the DVD extras.
Ricky makes a reference to The Muppets in 'The Office' where David Brent and colleagues start singing 'Mahna Mahna'.
Ricky also starred on Sesame Street, filmed in his second home of NYC.
Here he is singing Elmo a not so peaceful lullaby using, you've guessed it, a guitar:
Here is an Elmo and Ricky outtake video:
Ricky then invited Elmo to his London home to meet friend and star of Life's Too Short and An Idiot Abroad 3, Warwick Davis:
And finally, Elmo's thoughts on Ricky: